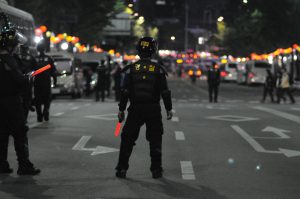 Prison time has now doubled for assaulting an emergency worker.
The new law protecting emergency workers from assault applies from November 2018.
The maximum sentence for assault doubles from 6 to 12 months in prison.
This covers police, prison officers, custody officers, fire service personnel, search and rescue services and NHS paramedics.
The new law will also mean that judges must consider tougher sentences for a range of other offences – including GBH and sexual assault – if the victim is an emergency worker.
Recent years have seen an increase in assaults on emergency workers, with 26,000 assaults on police officers in the past year and over 17,000 on NHS staff. Assaults on prison officers rose by 70% in the 3 years to 2017, with an 18% increase experienced by firefighters in the past 2 years as well.
Justice Minister Rory Stewart said:
"Assaulting prison officers or any emergency worker is not just an isolated attack – it represents violence against the public as a whole. Every day these public servants do extraordinary work on our behalf, and they must be able to do it without the fear of being assaulted. Our message is clear – we will protect our emergency services and violence towards them will not be tolerated".
Kim Sunley, National Officer at the Royal College of Nursing (RCN), said:
"Physical assaults remain a fact of life for many healthcare workers, from A&E to community services. This bill is the first step towards changing that for good. From now on, anyone who wilfully assaults a healthcare worker will feel the full force of the law and can expect a tougher sentence if found guilty. The RCN has campaigned tirelessly for this law. Our negotiations have ensured it covers as many healthcare workers as possible, including community and district nurses, and alongside other emergency workers' representatives we successfully expanded the scope of the bill to include sexual assault".
There is already a specific offence for assaulting a police officer, but for the first time similar protection will be extended to anyone carrying out the work of an emergency service. The law also provides extra protection to unpaid volunteers who support the delivery of emergency services.
Hopefully this legislation will encourage lone workers to report all concerns to their employer and ensure that risks are clearly identified and minimalised to reduce the possibility of something going seriously wrong. A worker who has been involved in an unpleasant incident can require several months recovery time following a traumatic experience.